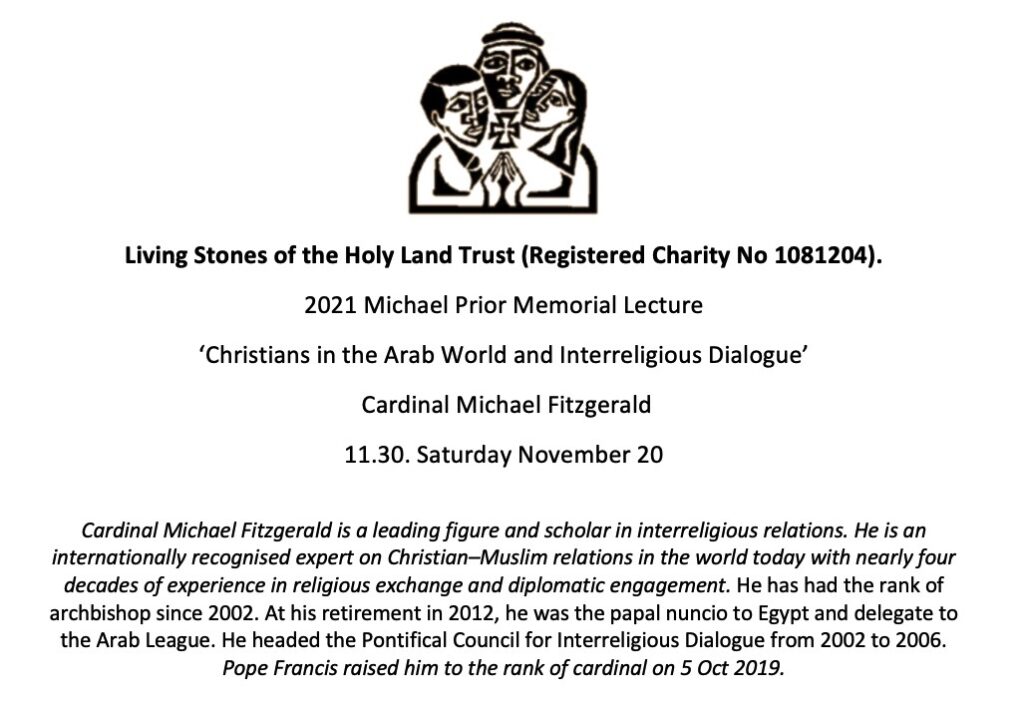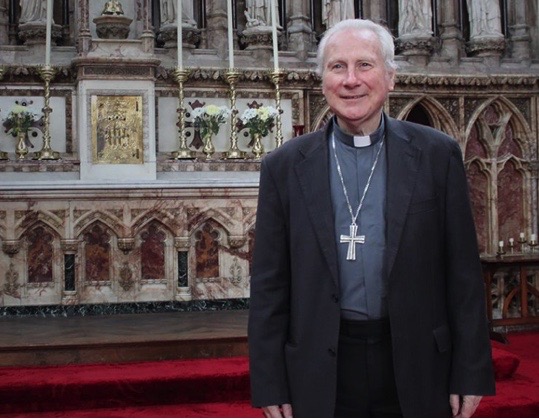 Our Annual General Meeting is to be held on Saturday November 20th from 11.00a.m. I am attaching a copy of the Agenda for that meeting and a copy of the examined Annual Accounts for the period to the end of March 2021. Attached to the Annual Accounts is the Trustees Annual Report for the same period. The accounts and the report are a part of our statutory responsibility to the Charity Commission but also a public statement of our progress over that year in terms of our programme of work and its financial and risk management and our financial position as of end of March 2021. This is your organisation and it needs your continued support.
This year we are delighted that eased restrictions will allow us to hold the AGM in person. The AGM will take place in the Parish Hall at Holy Apostles Church, Pimlico, London SW1V 4NE. Please see attached leaflet for more information on how to get there. We are pleased that Cardinal Michael Fitzgerald will give the 2021 Michael Prior Memorial Lecture 'Christians in the Arab World and Interreligious Dialogue'. Cardinal Michael is a leading figure and scholar in interreligious relations. He is an internationally recognised expert on Christian–Muslim relations in the world today with nearly four decades of experience in religious exchange and diplomatic engagement. The attached leaflet provides a fuller account of Cardinal Michael Fitzgerald's biography and acts as an advert for the Michael Prior Lecture. Please hand out and/or display wherever you think there might be those who would like to attend. Thank you.
Attending AGM
It is essential that you let me know that you wish to attend by Saturday 13th November 2021. Please confirm your contact details, particularly your e-mail and telephone number.
If you cannot attend, we would be pleased to receive written questions about our annual report and accounts or any other matter on the Agenda (admin@livingstones.ngo or Living Stones of the Holy Land Trust, 22 Ebenezer Close, WITHAM, Essex CM8 2HX) by Saturday 13th November 2021. We will also be happy to receive any nominations from you for the Executive.
Nominations to the Executive
Whether you can attend or not, you are also asked, if you wish to, to nominate any person or persons [after checking with them that they are willing to stand] as a member of the Executive (Trustee) or to offer to be a member of the Executive yourself. Could you please think about these possibilities.
We are particularly anxious to find people who are willing to serve who have skills and experience in administration, finance or editorship. Legal knowledge, fund-raising for charities or other charity management experience, or direct experience of living or working in the Middle East would also be highly valued.
If you would like to be nominated please send a copy of your cv. And your telephone number and we will contact you. The name and contact details of any person that you would like to nominate should be sent to the Secretary at our admin address; admin@livingstones.ngo. This nomination must be sent by e-mail (admin@livingstones.ngo) or by letter (Living Stones of the Holy Land Trust, c/o 22 Ebenezer Close, WITHAM, Essex CM8 2HX) to arrive at either address by Saturday 6th November (14 days before the AGM).
On the other hand, if you would like to be nominated please send a copy of your cv. to the above address with your telephone number and we will contact you.
Members of the Executive normally meet (online at the moment) for four meetings a year and carry the decision making responsibility for all the work and activity of Living Stones. Each member of the Executive is also a member of a team which has responsibility for particular aspects of our work; Year Book, Scholarships, Pilgrimages, Events, Membership, Partnerships, Website and Promotion, etc.
Present Executive and Honorary Officers
Constitutionally, all members of the present Executive have to retire at the AGM. Those members of the present Executive who wish to continue to serve on the Executive in the coming year will be nominated for the Executive in the coming year and will be subject to election at the AGM. Summary information about them can be found on the website www.livingstones.ngo. At the AGM, names will be brought forward from the membership/present Executive for the Trust's Honorary Officers ie. Chairman, Vice Chairman, Treasurer and Secretary who will assume office on closure of the AGM,
Please attend the AGM if you can, you would be most welcome and we shall look forward to seeing you. If a blended meeting is possible, i.e. also on zoom, we will send you a zoom link at least a week in advance.
There is a special page on our website www.livingstones.ngo dedicated to the AGM 2021 with all the papers and information that you might need available as a download.
Again, we look forward to seeing you on 20th November, with many thanks and may God bless you
Colin South
Chair October 2021