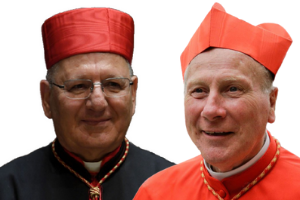 On behalf of the Catholic foundation Fellowship and Aid to the Christians of the East(FACE), I am very pleased to invite you to attend our webinar on The Future of Christianity in the Middle East, with the participation of: 
His Beatitude Louis Raphaël Cardinal Sako, Patriarch of Babylon of the Chaldeans and head of the Chaldean Catholic Church and His Eminence Michael Louis Cardinal Fitzgerald (Patron of FACE) 
On Saturday 24 April 2021 at 10:00 am (BST) via Zoom 
His Beatitude Cardinal Sako, who hosted the recent apostolic visit of Pope Francis to Iraq, faces the challenge of leading an Eastern Church in a highly charged and often changing situation, which has witnessed the mass exodus of Eastern Christians from their homelands, where Christianity was first spread. Patriarch Sako will discuss the visit of Pope Francis to Iraq and its legacy; his role as head of the Chaldean Church; the current situation of Christianity in Iraq; relations with the Chaldean diaspora across the world; relations between Christians and Muslims in Iraq; the current needs of Christians in Iraq; and the future of Christianity in the Middle East. There will be an opportunity for questions. Please find attached here a leaflet with information on the subject of discussion together with biographies of the speakers. 
It is necessary to register for this webinar in advance by using the link: www.cardinalsako.eventbrite.co.uk
See here for more information on the speakers.