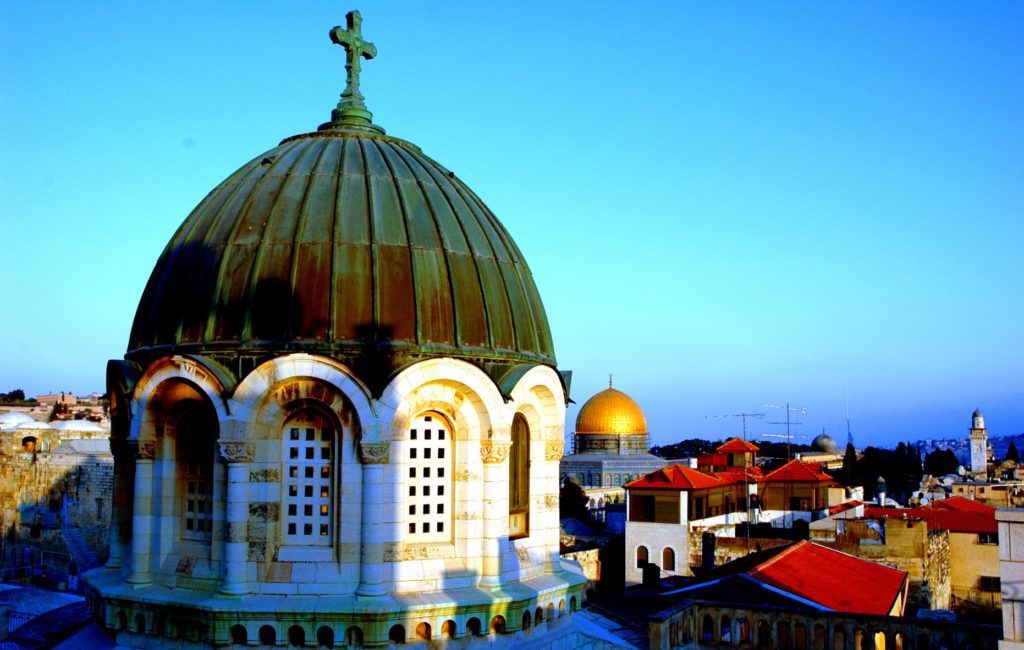 On 15 June , Living Stones Theology Group will hold a consultation on 'Ecclesial identity and character of the Church in the Holy land'. This will be one of a series of consultations alongside our usual pattern of presentations of recent research followed by comment and discussion. It will start at 2.00 pm as usual and we will be planning for a maximum period of two hours.
Christianity in Jerusalem and the Holy land has a real significance for the history of the Church but also for understanding today the political and religious challenges for Christians in the wider Middle East. The very character and stability of the Church and Christians in the Holy Land is undermined and threatened by profound political upheaval. There are many fundamental questions to be answered, for example;
how has the present ecclesial identity and character of the Church in the Holy Land been affected by such changes?
in what way does the diverse ecclesial presence of Christianity in the Holy Land continue to provide an opportunity for ecumenical dialogue?
what is the significance of: a. pilgrimage, b. the visibility of ecclesial structures and c. the nature of the opportunity for creative theology in the Holy Land today?
The Theology Group meeting will begin with an opening introduction (15 minutes) and  we hope this will be followed by a wide-ranging exchange and discussion. The Theology Group has within its community vast expert knowledge and understanding of the Church in the Holy Land. To enable the success of this dialogue we would encourage participants to prepare a short (5 minutes) reflection or comment on the theme and these questions which we anticipate will enable a fruitful discussion. 
If you wish to join the zoom meeting contact the secretary.
As a preamble we would encourage you to read the recent statement by the Latin Patriarch of Jerusalem on the challenges to the Church: "Holy Land: Patriarch of Jerusalem calls for unity within the Church"
https://www.vaticannews.va/en/church/news/2021-01/holy-land-latin-patriarch-pizzaballa-world-day-peace-unity.html– .
For those interested in or wishing to participate in the discussion on 15th June, there are also numerous recent studies on aspects of the Church and Christianity in Jerusalem and the Holy land which they might wish to be aware:
An excellent guide to all the churches in the Middle East the collection of studies with several contributions on Palestinian Christians, Christians in Israel, and Jordan :
Christianity in North Africa and West Asia (Edited by Kenneth R. Ross, Mariz Tadros, Todd M. Johnson) (Edinburgh University Press 2018) https://edinburghuniversitypress.com/book-christianity-in-north-africa-and-west-asia.html
The Rowman & Littlefield Handbook of Christianity in the Middle Easthttps://rowman.com/ISBN/9781538124178/The-Rowman-and-Littlefield-Handbook-of-Christianity-in-the-Middle-East
Womack, D. F. (2020), 'Christian Communities in the Contemporary Middle East: An Introduction', Exchange,49(3-4), 189-213.
DOI:  https://doi.org/10.1163/1572543X-12341566 [Open access]
Marteijn, E. S. (2020), 'The Revival of Palestinian Christianity', Exchange,49 (3-4), 257-277.
DOI:  https://doi.org/10.1163/1572543X-12341569 [Open access]
Schouten, L. (2020), 'Why Church Leaders Discourage Christians from Leaving Jordan: An Anti-Emigration Perspective', Exchange, 49 (3-4), 339-357.DOI: https://doi.org/10.1163/1572543X-12341573 [Open access]
Parkkinen, M. (2021), 'Denominational Mobility among Palestinian Christians', Exchange,50 (1), 30-52. DOI: https://doi.org/10.1163/1572543X-12341584