If you are seeking information about the current situation of Christian across the Middle East, please look at our Facebook page which has the most up-to-the-minute information.
If you have items you would like to suggest for website, please send them to the web editor at website@livingstonesonline.org.uk.
We share our concerns for the safely of the Christian communities throughout the Middle East. May they and all in the region hold onto hope.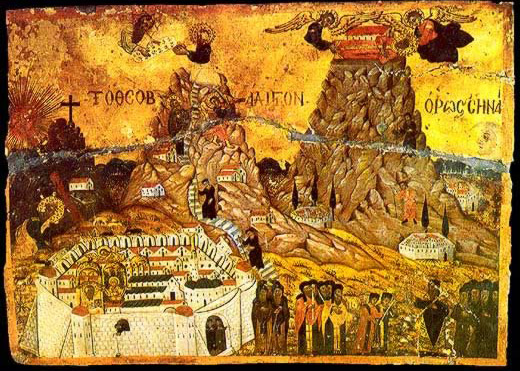 This topographical icon of Mount Sinai shows St. Catherine's Monastery with various small convents and monastic habitations with chapels, as well as a reconstruction of the holy events related to the site. It is a portable icon dating to the 17th century (http://www.touregypt.net/featurestories/catherines2-44.htm).
Currently under attack from ISIS and its allies, St. Catherine's Monastery is located at the foot of Mt Sinai, built around what is thought to be Moses' Burning Bush. The formidable fortification, with granite walls measuring 8 to 35 meters tall, is surrounded by gardens and cypresses.  It was constructed by order of the Emperor Justinian between 527 and 565 and houses priceless works of art, including Arab mosaics, Greek and Russian icons, and many treasures, as well as one of the largest and most important collections of illuminated manuscripts in the world, consisting of some 4,500 volumes in Greek, Coptic, Arabic, Armenian, Hebrew, Slavic, Syriac, Georgian and other languages.
Prior to probably the twentieth century, the only entrance to St. Catherine's was a small door 30 feet high, where provisions and people were lifted with a system of pulleys, and where food was often lowered to nomads. It has withstood numerous attacks over its 14 hundred year existence, thus protecting a rich store of art. Today, while it is one of the oldest monasteries in the world, its original, preserved state is unmatched.