The Living Stones Yearbook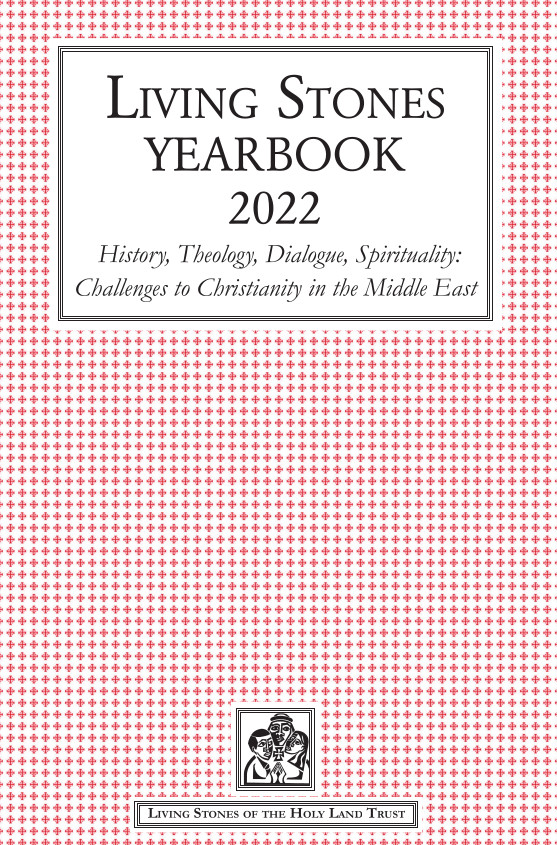 Living Stones offers this publication as encouragement and support to an informed concern for the Christian community in the Middle East. Currently under threat throughout the Middle East by constant political unrest including civil and international war, this publication offers a space for valuing the communities' contribution to the prospect of peace and stability, to inter-religious dialogue and interpreting the impact of the present unrest on the life of the Church.
The Yearbook is distributed in printed form free to members. The current issue is available from Melisende Publishing, 33 Linkside Road, Bishop's Stortford CM23 5LR. Tel: 01279 659920. Copies can be purchased for £20 including postage.Submissions for inclusion in the Yearbook are welcome and papers for consideration should be sent to the editor. Notes for submission of papers and house style are available upon request from the editor.
---
2022 Yearbook
You may download a pdf copy of the 2022 Yearbook here
2022 Year Book Content
Obituaries
Richard Wheeler
Kallistos Ware
Christians in the Arab World and Interreligious Dialogue—Michael Cardinal Fitzgerald, M.Afr.
A New Approach To Qur'anic Exegesis—Michel Cuypers
Charles de Foucauld: Saint in the Dark—Robert Gibbons Obl OSB
Pope John Paul II and Relations with Islam—Ian Latham†
The Second Vatican Council and the Future of Christian-Muslim Dialogue—Duncan Macpherson
Louis Massignon—A Servant of God—Richard Wheeler†
Through a Glass Darkly: A Reflection on the Muslim Mystical Tradition and the Modern West's Response—Leonard Harrow
Christianity in the Middle East: Current Challenges and Opportunities for the Future, through the Experience of Syria—Antoine Audo
The Arab Evangelical Church and the Refugee Crisis especially in Lebanon, in Dialogue with Osmer's Practical Theology—Michael Arteen
Political Patriarchs: A Study of the Political Significance of Patriarch Thomas of the Chaldean Catholic Church during the Creation of Iraq—Alexander Humphries
The Chaldean Catholic Community in an International Context: Migration, Ecumenism, and Ecclesiology in Britain (1965–2013)—Kristian Girling
A Historic Milestone in Ecumenical Dialogue: the Agreement on the Eucharist between the Catholic Church and the Assyrian Church of the East—Máté Szaplonczay
The Impact of the New Julfa-'New Geneva' School of Theologians against the Crisis of Proselytisation and Apostasy in Safavid Iran—Vrej Nersessian
Reflection on Modern History and the Contemporary Religious and Political Context of Christianity in the Modern Middle East—Anthony O'Mahony
---
Past copies of the Yearbook are available for download via the links below.
Yearbook archive
2021 Yearbook
Table of Contents
Episcopal Diplomacy: Oriental Christians or the Syriac Orient at the Paris Peace Conference 1919-1920. Aphram I Barsoum, a Man of Vision on an Impossible Mission—Aziz Abdul-Nour
The Syrian Orthodox Church in the Twentieth Century—Sebastian Brock
The Coptic Church in Modern Jerusalem and The Holy Land—John Watson†
An Exploration of the role of Arab Protestant Women in Theological Education: a Contribution to Ecclesial Understanding of Christianity in the Middle East—Grace Al-Zoughbi
Evangelical Christian Zionism: an Assessment—Stephen Sizer
Louis Massignon and Iraq: Mysticism and Conversion in the Christian Encounter with Islam and the Muslim World—Ian Latham†
Louis Massignon and Charles de Foucauld—Hugues Didier
Universal and Local Perspectives on Religious Freedom in The Muslim World: John Paul II and Pierre Claverie—Isabel Olizar
From Hungary to Syria: Applied Solidarity in the Eastern Catholic Churches—Máté Szaplonczay
Something has irreparably broken. Dispersed Christians in the Middle East—Bianka Speidl
Table of Contents
The Implications of the Conversion of the Great Church of Hagia Sophia into a Mosque on Muslim-Christian Relations in Contemporary Turkey—Nikodemos Anagnostopoulos
Hagia Sophia, Museum, Mosque, or Church or something else?—Robert (Robin) Gibbons
Christian Zionism: Some Inter-Religious and Ecumenical Observations—Peter Colwell
The Armenian Catholic Church in the Contemporary Middle East—John Whooley
Eastern Christian Mystical Traditions and the Development of Ecumenical and Interreligious Dialogue: Louis Massignon, Olivier Clement, Georges Khodr and Paolo Dall 'Oglio, with a Protestant Contribution.—Andrew Ashdown
Kenneth Cragg: Response to Political Islam in Modern Iran—Christopher Brown
Kenneth Cragg and the Wisdom of the Sufis—David Derrick
Islamic Belief and Practice—Ian Latham LBJ†
Jean-Mohammed Abd-el-Jalil—Sister Agnes Wilkins OSB
Serge de Beaurecueil, OP: Scholar and Disciple of 'Abdullah Ansari of Herat (d. 1089)—Minlib Dallh, OP
The Armenian Church under the Sceptre of the Tsars, 1828-1905—Vrej Nerses Nersessian
Table of Contents
Authenticity, Ecumenism and Interreligious Dialogue: Louis Massignon, Olivier Clément, Thomas Merton, Christian de Chergé—Radical hospitality Radical faith—Stefanie Hugh Donovan
A reflection on Stefanie Hugh-Donovan's 'Eastern Orthodoxy and Muslim-Christian Relations between Europe and the Middle East. Olivier Clément's perspectives on theology and ecclesiology in the Christian encounter with Islam,' Living Stones Yearbook 2016.—David Derrick
Hassan Dehqani-Tafti: struggles of a convert from Islam to be Christian in post-revolutionary Iran?—Agnes Wilkins OSB
The Idea of Badaliyya (mystical substitution) in the Life and Thought of Louis Massignon—Paolo Dall'Oglio SJ
For the Life of the World: An Eastern Christian Perspective on Care of our Planet—Robin Gibbons
From Crisis to Grace: Theological Reflections on Developing Trends in Jewish-Catholic relations, through aspects of the work of David Neuhaus SJ—Peter Colwell
The ecclesial thought of Kenneth Cragg in relation to the Church of England's presence in Jerusalem. Reflections on modern history—David Derrick
Matta El-Meskin/Matthew the Poor: A Contemporary Desert Father (1919-2006). A L ife Of Kenosis.—Anthony O'Mahony
Table of Contents
An exploration of issues surrounding Anglican/Jewish relations in the UK in the light of the Israel/Palestine conflict—Andrew Ashdown
Jesus the Jew and Jesus the Palestinian?—Duncan Macpherson
Christian-Muslim Relations: From Conflict to Dialogue A Critical Account of Present and Recent Catholic Teaching on Christian-Muslim Dialogue—Duncan Macpherson
Ex Tenebris Lux? A Pastoral Reflection on Some Issues around Middle Eastern Christianity in the West—Robert Gibbons
The Revival of the Syrian Orthodox Christians Following the First World War—Khalid S Dinno
Paolo Dall'Oglio SJ. Eastern Christianity, Monasticism and the Community of Deir Mar Musa: A Study in Muslim-Christian Relations in Modern Syria—Christopher Knollys
The Strategies for Survival: Syriac Orthodox Christians prior to and during the Syrian Civil War—Noriko Sato
An Exploration of the Philosophical Theology of David Burrell in Dialogue with Islam, in Conversation with Robert Murray and Modern Papal Thought on Ecological Crises—Patricia Morris
Mary in the Qur'an and Islamic Tradition—Ian Latham†
Table of Contents
Jamil Bullata
Palestinian Christians: present situation and future challenges—Sr Bridget Tighe
Hebrew Speaking Catholics in Modern Israel: Identity within the Transnational Church and Socio-Political State—Emily Tavcar
An exploration of issues surrounding Anglican/Jewish relations in the UK in the light of the Israel/Palestine conflict—Andrew Ashdown
Kenneth Cragg as an Anglican Theologian of Islam—Christopher Brown
Kenneth Cragg, Charles Malik and Dag Hammarskjöld—some thoughts on the question of mysticism and the 'public square'—David Derrick
Eastern Orthodoxy and Muslim-Christian Relations between Europe and the Middle East: O Clément's perspectives on theology and ecclesiology in the Christian encounter with Islam—Stefanie Hugh-Donovan
The Faithful Presence of the Syrian Orthodox in a Challenging Milieu: Sayfophobia, Citizenship, IDPs 1915-2015, and beyond.—Aziz Abdul-Nour
The Present Crisis in Iraqi Christian Identity—Suha Rassam
Is there an end in sight re the destruction of Churches and Monasteries in Iraq?—Erica C D Hunter
Church-State relations in the Soviet Republic of Armenia during the Catholicate of Gevorg VI Ch'orekch'ian (1945-1954) and his successor, Vazgen I Palchian (1955-1994)—Vrej Nerses Nersessian
Table of Contents
Reclaiming Judaism from Zionism—Ilan Pappé
Michael Prior, the Professional and the Amateur: The Bible and Colonialism. A Moral Critique—Michael Marten
Perfidious Albion: Britain's broken promises and the Israeli/Palestinian conflict—Mary Grey
Zionism, Anti-Semitism and the Bible—Duncan Macpherson
Palestinian Liberation Theology—Naim Ateek
Being there/Being with: reflections on international accompaniment in Palestine—Alwyn Knight
A reflection: Armenians and other Christians at the end of the Ottoman Empire and 100 years later—Leonard Harrow
The Impact of the Genocide of 1915 on the Armenian Orthodox Apostolic Church—Nerses Vrej Nersessian
The Armenian Genocide Centennial: A Way Forward?—Harry Hagopian
Christian Encounters with Islam in history and modern times: some Theological Reflections—Ian Latham
To Defend the Faith? Themes and Concepts in the writings of Sayyid Qutb and Rowan Williams—Peter Colwell
Table of Contents
Toledo Guidelines and the myth of the Andalusian caliphate—James C Conroy
Christology of the Armenian Church—Vrej Nerses Nersessian
Christianity in modern Turkey: an overview—Anthony O'Mahony
The ecumenical patriarchate of Constantinople and the Greek minority, in the context of Muslim-Christian relations: contemporary challenges—Nikodemos Anagnostopoulo
The dhimmi: dhimmi and dhimmitude in the Ottoman empire—Robin Gibbons
The Chaldean Church in modern times—Suha Rassam
'Pick up the pearls of knowledge and adorn ourselves with the jewelry of literature': An analysis of three Arab women writers in al-Nashra al-Usbu'iyya—Deanna Ferree Womack and Christine B Lindner
The development of the theology of Rowan Williams: The question of Christian-Muslim relations—Philip Ind
The legacy of Charles de Foucauld—Ariana Patey
Table of Contents
The Biblical Narrative: Canonical 'Ancient Israel'—Michael Prior
Genocide, Ethnocide, and the situation of Middle East Christians today—Terry Tastard
Christianity and the Israeli-Palestinian Conflict—Rosemary Radford Ruether
Health Care in the Ottoman Holy Land and Mount Lebanon prior to Western Protestant Medical Missionary Enterprise—Ramsay F Bisharah
Christian Syria—Ignace Dick
Can we re-imagine Islam as solely with a Meccan identity, as set out in the writings of Kenneth Cragg?—David Derrick
Dialogue: What is the Point of It?—Hugh Boulter
Mary Kahil: A Life Given for Muslims—Sr Agnes Wilkins OSB
Shenouda III and the Coptic Orthodox Church in Modern Egypt: Some reflections—Anthony O'Mahony Russian Orthodoxy and Islam—ethics and spirituality in education—Basil Cousins
Table of Contents
The Current situation of Christianity in the Middle East, especially Syria, after the Synod of the Middle East's Final Declaration (September 2012) and the Papal Visit to Lebanon—Antoine Audo
The Synod for the Middle East: First Results and Future Possibilities—Frans Bouwen
Engaging 'the Martyred Church'. The Chaldean Catholic Church, Assyrian Church of the East and the Holy See in Ecumenical Dialogue 1994-2012 and the Influence of the Second Vatican Council—Kristian Girling
Anglicanism and Islam: the ecclesial-turn in interfaith relations—Richard J Sudworth
Palestinian Christian Theology as a New and Contemporary Expression of Eastern Christian Thought—Leonard Marsh
Accepting the Fact of Death, We are Freed to Live More Fully. A reflection on freedom and liberty in Israel and Palestine—Colin South
The Concept of Dhimma in Early Islam—C E Bosworth
The Influence of Latin-Melkite Relations in the Land of Transjordan from the Rebirth of the Latin Patriarchate to the Foundation of the Archdiocese of Petra and Philadelphia (1866-1932)—Paolo Maggiolini