Recommended Organisations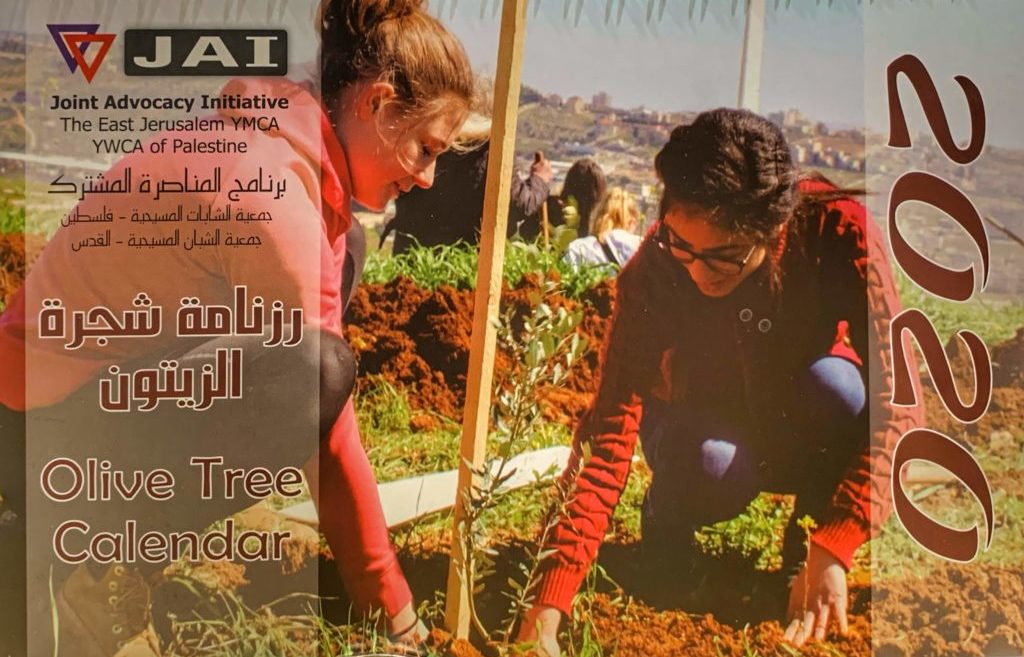 An alphabetical list of recommended organisations together with hyperlinks to their websites.
ABCD (Action around Bethlehem Children with Disability)
ABCD is dedicated to improving the quality of life of those children and young adults who suffer from physical, mental and psychological disabilities in Palestine/The Occupied Territories and the Gaza Strip, working through Palestinian partners (the Bethlehem Arab Society for Rehabilitation (BASR) based in Beit Jala, The Sheepfold in Beit Sahour and two UNWRA Refugee Camps in Jalazone and Nour Shams). Website
ACT Palestine Forum, including Prayer Vigil
Our objective is to increase the effectiveness and impact of the humanitarian assistance and development work being undertaken by members through improved coordination. One of the projects of the APF is to conduct joint advocacy on behalf of the members of the forum. Website
Addameer (Prisoner Support and Human Rights Association)
ADDAMEER (Arabic for conscience) Prisoner Support and Human Rights Association is a Palestinian non-governmental, civil institution that works to support Palestinian political prisoners held in Israeli and Palestinian prisons. Established in 1992 by a group of activists interested in human rights, the center offers free legal aid to political prisoners, advocates their rights at the national and international level, and works to end torture and other violations of prisoners' rights through monitoring, legal procedures and solidarity campaigns. Website
Aid to the Church in Need
Aid to the Church in Need is at work in more than 140 countries, helping Christians who are persecuted, oppressed or in pastoral need, and currently is prioritising pastoral help and emergency aid for displaced and refugee families in the Middle East, as their needs are growing daily. Website
Amos Trust
Amos Trust is a small, creative human rights organisation, committed to challenging injustice, building hope and creating positive change. Working with local and international peace activists, and partnering with grass-roots projects, to call for a just peace, reconciliation and full equal rights for all Palestinians and Israelis. Website
Anglican Diocese of Jerusalem
The Diocese of Jerusalem covers five countries and is home to almost thirty parishes. Our healthcare and education ministries are active and growing across the region with the provision of hospitals, clinics, rehabilitation centers, and schools. The Diocesan Peace and Reconciliation department continues to work at strengthening the interfaith dialogue with our fellow Jews and Muslims. Our Kids4Peace programme in turn strives to educate the next generation in a language of tolerance and acceptance. Website
Bethlehem Bible College
Bethlehem Bible College exists to train people to serve Christ in the world, advocate a Palestinian Evangelical perspective, and model Christ through community development. BBC is an interdenominational college which uses Arabic as its primary language of instruction. We aim for a high academic standard while encouraging spiritual growth and commitment to Christ. Website
Bethlehem Icon Centre
Dedicated to the restoration of Christian iconography as a living art among the peoples of the Holy Land and beyond. It is our way to help the local Christians stay in the Middle East, and to help visitors to have a deeper spiritual experience of Christ and His Church when they come here on pilgrimage. Website
Bethlehem University
Bethlehem University is a Catholic co-educational institution in the Lasallian tradition whose mission is to provide quality higher education to the people of Palestine and to serve them in its role as a center for the advancement, sharing and use of knowledge. Website
Britain Palestine Friendship and Twinning Network
Through the twinning network we can share our experiences and provide resources and assistance to groups who wish to or have built friendship links with Palestinian communities. Website
Caabu (Council for Advancing Arab-British Understanding)
Caabu's mission is to work for a British Middle East policy that promotes conflict resolution, human rights and civil society in the Arab world through informed debate and mutual understanding. Caabu is one of the most active NGOs working on the Middle East in the British parliament, and takes delegations of parliamentary representatives to the Middle east to encounter the situation. Website
Caritas
Caritas Jerusalem is a member of Caritas Internationalis, a confederation of 165 Caritas organizations operating in more than 200 countries. Since 1967, we respond to the emergency, social and development needs of the people of the Holy Land, from all creeds and origins. We believe in peace and justice, and in keeping hope for a better future. Website
Christian Aid
Together with our supporters and partners, we aim: to expose poverty throughout the world, to help in practical ways to end it, to highlight, challenge and change the structures and systems that favour the rich and powerful over the poor and marginalised. Website
Christian Information Center
The aim of the C.I.C. is to provide information on Christianity and on the Holy Land – including shrines and holy places, the numerous churches in the region, liturgies, aspects of religious and cultural life, other activities. Website
Ecumenical Accompaniment Programme in Palestine and Israel– EAPPI
The World Council of Churches' Ecumenical Accompaniment Programme in Palestine and Israel (WCC-EAPPI) was created in 2002 by the World Council of Churches based on a letter and an appeal from local church leaders to create an international presence in the country. Our vision of justice and peace in Palestine and Israel brings teams of internationals as human rights monitors to witness life under occupation for spells of three months, and go home to promote change. Website
Electronic Intifada
An independent online news publication and educational resource focusing on Palestine, its people, politics, culture and place in the world. EI has won awards and earned widespread recognition for publishing original, high-quality news and analysis, and first-person accounts and reviews. The Electronic Intifada's writers and reporters include Palestinians and others living inside Palestine and everywhere else that news about Palestine and Palestinians is made. Website
Embrace the Middle East
Embrace the Middle East supports transformational projects in the Middle East which help vulnerable and marginalised people to achieve their potential, working through the historic Christian communities of the region, who for two thousand years have been 'salt and light' to the people they serve. Website
Israeli Committee Against House Demolitions – ICAHD
ICAHD is a non-violent Israeli direct-action organization to end Israel's Occupation over the Palestinians. A grassroots organization, we seek, together with our Palestinian, Israeli and international partners, to formulate and achieve a genuinely just political settlement to the Israeli-Palestinian "conflict," one that revolves around the creation of a single democratic state over the entire country. Website
Jerusalem Princess Basma Centre for Children with Disabilities
The Jerusalem Princess Basma Centre, established in 1965, works on the integration and empowerment of children with disabilities and their families in their communities through: their physical rehabilitation, inclusive education, the development and dissemination of best practices, and influencing policy and legislation. Website
Jewish Voice for Peace
Jewish Voice for Peace opposes anti-Jewish, anti-Muslim, and anti-Arab bigotry and oppression. JVP seeks an end to the Israeli occupation of the West Bank, Gaza Strip, and East Jerusalem; security and self-determination for Israelis and Palestinians; a just solution for Palestinian refugees based on principles established in international law; an end to violence against civilians; and peace and justice for all peoples of the Middle East. Website
Jews for Justice for Palestinians
JJP is a diverse community of Jews in Britain. We follow in the footsteps of Jews throughout the ages who have stood up for human rights and against oppression. We campaign for justice and peace in Israel and Palestine, and against the Occupation. Website
Joint Advocacy Initiaitve
A joint program of East Jerusalem YMCA and YWCA of Palestine, works for Peace with Justice in Palestine, based on Humanitarian and Christian Values, by mobilizing the world movements of YMCA and YWCA, churches, church-based organizations, UN agencies, and other relevant organizations to influence decision-makers and prompt actions that contribute to end Israeli occupation and all its violations of International Law. Website
Latin Patriarch: The Catholic Church of the Holy Land
The Latin Patriarchate covers all Latin Rite churches in Israel, Palestine and Jordan and all their institutions. Website
Lutheran World Federation
Rooted in Christian values of love, reconciliation and justice, The Lutheran World Federation's Department for World Service (DWS) responds to human need throughout the world, serving all people irrespective of ethnicity, gender, religion, race or political conviction. The Lutheran World Federation's Jerusalem Program has been running projects related to health, education, and humanitarian aid in the occupied Palestinian territories for over 65 years. Website
Mar Elias Schools, Pilgrims of Ibillin
The Mar Elias Schools developed from the vision of Melkite parish priest in Ibillin (and latterly Archbishop) Fr Elias Chacour (author of Blood Brothers). These organisations support the Mar Elias Educational Institutions and other mission projects that cultivate a just peace in Israel-Palestine through financial resources, education, and peace building projects. Website
Methodist Liaison Office
Works closely with WCC (World Council of Churches) Jerusalem Inter-church Centre and other ecumenical partners in promoting study and action stemming from Kairos Palestine document. Website
Middle East Council of Churches
Being the tangible expression of the Christian presence in the region, the Council's mission is to work towards the unification of visions, perspectives and attitudes among Eastern churches, especially on issues related to Christian presence and witness in the Middle East and Muslim-Christian relations. The Council's mission is seen today as being a bridge to remove prejudices and barriers between churches in the Middle East. It provides them the adequate space to come together, pray, reflect, analyze, speak with a common voice, and act and witness together. Website
Musalaha Ministry of Reconciliation
Musalaha is a non-profit organization that promotes and facilitates reconciliation between Israelis and Palestinians from diverse ethnic and religious backgrounds, based on Biblical Principles of Reconciliation. Website
Nazareth Village
Set on the outskirts of old Nazareth, the Nazareth Village is built on ancient agricultural land that boasts the area's last remaining first-century wine press. The original farm has been restored with its ancient wine press, terraces, irrigation system and stone quarry, and exact replicas of first-century houses, a synagogue, a watchtower, mikveh and olive presses. Together, these elements form the Nazareth Village, an authentic first-century farm and archaeologically accurate re-creation of the hometown of Jesus with real ties to the life and time of His friends, family and fellow Nazarenes. Website
Open Bethlehem
Open Bethlehem's vision is to see the city as a thriving Palestinian centre with a prosperous spiritual, cultural and commercial life that is a source of pride to Palestinian culture and aspirations. It seeks to advocate and proactively promote support for a free and flourishing Bethlehem city within a vibrant and sovereign Palestine, through the use of digital multimedia strategies. A recent initiative has been the Ambassadors and Bethlehem Passport. Website
Palestine Israel Ecumenical Forum
An international, inter-church advocacy initiative for peace in Israel and Palestine which aims to catalyse and co-ordinate new and existing church advocacy for peace, aiming at ending the illegal occupation of Palestinian territories in accordance with UN resolutions, and demonstrating its commitment to inter-religious action for peace and to justice that serves all peoples of the region. Website
Palestine Solidarity Campaign
Palestine Solidarity Campaign (PSC) is a community of people working together for peace, equality, and justice and against racism, occupation, and colonisation, and united in the belief that Israel's flouting of international law, continued military occupation of Palestine, and systematic discrimination against Palestinians is unacceptable. Website
Pax Christi
A Roman Catholic peace movement with 120 member organisations worldwide that promotes peace, respect of human rights, justice and reconciliation throughout the world. Grounded in the belief that peace is possible and that vicious cycles of violence and injustice can be broken, Pax Christi International addresses the root causes and destructive consequences of violent conflict and war. Website
Friends International Peace Centre and Friends Meeting and Friends Schools, Ramallah
The Ramallah Friends (Quakers) Meeting has played a vital role in the community since the late 19th century, and the Meeting House was built in 1910. The international centre seeks to 'lift up and nurture a Quaker presence in Ramallah; find ways to enrich and support the local community; and hold up and further peace and justice issues in the community'. The Friends School education seeks to promote a constant search for God to all human situations, and to cultivate ethical, moral and spiritual values. Website
Sabeel Ecumenical Liberation Theology Center, Jerusalem
Sabeel's mission is to strive towards theological liberation through instilling the Christian faith in the daily lives of those who suffer under occupation, violence, injustice, and discrimination. Their Vision is to see local Christians inspired by the life and teaching of Jesus Christ stand for the oppressed, work for justice, engage in peace-building. Website
Sabeel-Kairos UK
We are a small and energetic advocacy based human rights Christian charity promoting a just peace in Israel and Palestine. Originally two separate organisations that merged in 2017, Sabeel-Kairos is a Christian based UK charity committed to supporting peace and justice in the Holy Land. We are a network of individuals, organisations, churches and communities of all backgrounds across the UK, who stand in solidarity with the Palestinian people in partnership with, and by promoting and advocating on, the messages of Kairos Palestine and the Sabeel Ecumenical Liberation Theology Centre in Jerusalem. Website
Spafford Centre
A charitable institution founded nearly 100 years ago by an American, Bertha Spafford Vester, and still supported today by her descendants. Based on humanitarian values, the Centre gives help to those in need regardless of race, religion or cultural background. Website
Sunbula
Sunbula is a Jerusalem based non-for-profit fair trade organization, with two outlets in Jerusalem, committed to promoting social justice and economic empowerment for the marginalized in Palestine. Sunbula supports local artisans and traditional handicrafts, with deep respect for local heritage, providing income, preserving traditional skills and culture, and helping to sustain producer groups in order that they are able to provide for their communities. Website
Tantur Ecumenical Institute
Located on the seam between Jerusalem and Bethlehem, Tantur is uniquely located as an oasis of learning, prayer and hospitality amidst the immense geo-political complexity of this part of the world. The Institute has welcomed over 5000 Orthodox, Protestant, Anglican and Roman Catholic participants to its programs. Website
Tent of Nations
At Tent of Nations, our call is to change hearts and to build a bridge between people, and the land. We invite people to the farm to come and see, then go and tell our story of Faith, Love and Hope. The land, now an organic farm, was purchased in 1916 located in the hills southwest of Bethlehem, Palestine. The Nassar family has all the original land registration papers and has cultivated the land throughout the Ottoman, British, Jordanian, and Israeli governance, but nevertheless has a continual battle to prevent the Israeli government and settlers taking the land and destroying their orchards etc. Tent of Nations runs educational projects where people from many different countries come together to learn, to share, and to build bridges. Website
Ultimate Bethlehem Directory
Whether you want to visit the old Churches in Bethlehem, see the museums , or walk next to the Separation Wall, our team of experts can plan the trip that's perfect for your group. We'll help you design your own tour, building on an existing itinerary or helping you create your own tour from scratch. We can even coordinate your visit around a special event or add new trip that are just for your group–it's your perfect tour, made by you. Website
UNRWA (United Nations Relief and Works Agency for Palestine Refugees in the Near East)
UNRWA is unique in terms of its long-standing commitment to one group of refugees. Services encompass education, health care, relief and social services, camp infrastructure and improvement, microfinance and emergency assistance, including in times of armed conflict to 5 million registered refugees in Gaza, the West Bank, Jordan, Lebanon and Syria. Website
Wi'am Palestine Conflict Resolution Center
As a grassroots organization established in Bethlehem in 1994, Wi'am aims to improve the quality of relationships and to promote peace, justice, a culture of acceptance, and reconciliation in the community. Wi'am strives alongside other forces in the community to build a society based on active participation, citizenship, democratic norms and values, and separation of the four powers (executive, legislative, judicial, and media). Website
YMCA East Jerusalem
The YMCA is a Christian association whose mission is to build and empower individuals and communities by offering programmes that develop a healthy spirit, mind, and body based on Christian principals and centered on core values of caring, honesty, respect, dignity, justice and responsibility. Active in East Jerusalem, Beit Sahour, Jericho and Ramallah. Website
YWCA
The YWCA of Palestine supports and aspires to create women's leadership, especially among young women and girls, to realize their full rights and capabilities, and to promote and advance their full participation in decision-making on equal footing with men and in all aspects of their lives as they contribute to building a democratic and free civil society. Website
World Vision International: Jerusalem-West Bank-Gaza
World Vision JWG has one of the largest community-based presence of any organisation operating in the West Bank. We work through 12 locations or area programmes (AP) in the West Bank, which directly support over 41,000 children participating in sponsorship programmes. The APs are located in Hebron, Bethlehem, Nablus, Salfit, Tubas, Ramallah and Jenin, and are served by 78 dedicated female and male staff. The operation covers 149 communities with a total annual budget of $8.8 million USD. Private funding gives us stability and enables us to build long-term relationships with families, communities, schools, municipalities, village councils, the Palestinian Authority, faith communities and other civil society actors. Website
+972 Magazine
+972 Magazine is a blog-based web magazine that is jointly owned by a group of journalists, bloggers and photographers whose goal is to provide fresh, original, on-the-ground reporting and analysis of events in Israel and Palestine. Our collective is committed to human rights and freedom of information, and we oppose the occupation. However, +972 Magazine does not represent any organization, political party or specific agenda. Website
---
If you found any dead links, typos or other errors, or have suggestions for additional organisations we should include, please use the contact form.