About the Living Stones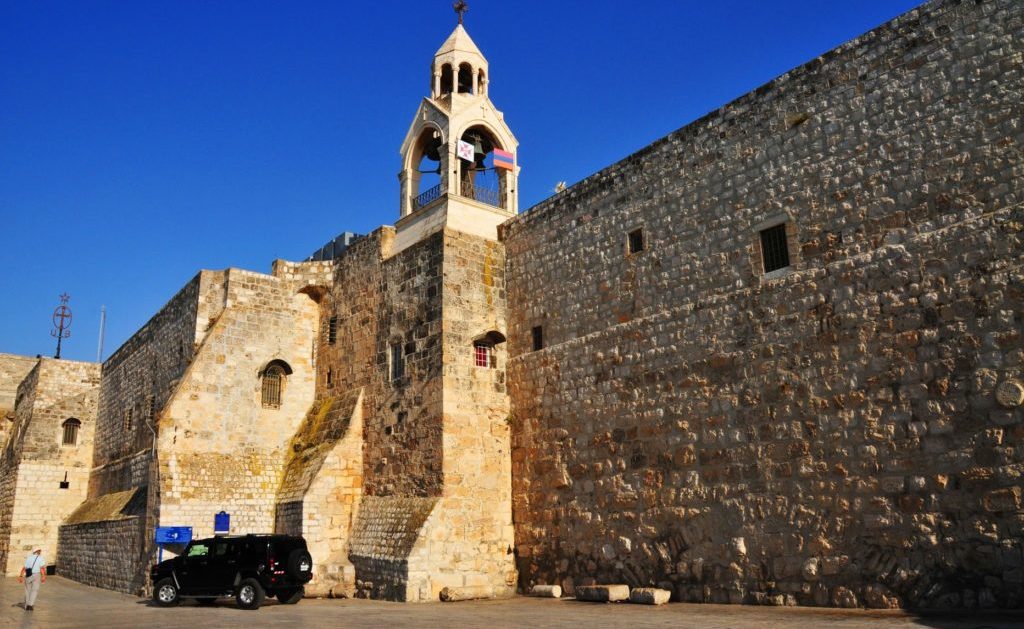 Our Purposes:
The Living Stones of the Holy Land Trust is an ecumenical charity with the primary aim of advancing education about Christianity in the Holy Land and countries around, by:
raising awareness in Britain and elsewhere, educating and informing the public concerning Christians in the Holy Land, through our website, lectures, newsletter and a yearbook of academic theological articles;
promoting contacts between Christians (and others) in Britain and in the Holy Land, e.g. through pilgrimages promoting encounter, reflection and witness;
cooperating with other charities and groups with similar aims, by sharing activities and information
Our Spiritual Patrons include:
Nora Carmi, Co-ordinator for Kairos Palestine
Archbishop Suheil Dawani, Anglican Bishop (Emeritus) in Jerusalem
Patriarch Gregorios III, Melkite Patriarch (Emeritus) of Antioch
Cardinal Vincent Nichols, Roman Catholic Archbishop of Westminster
Revd Baroness Richardson of Calow, Methodist Church in Britain
Bishop Theodosius of Sebastia, Greek Orthodox Patriarchate of Jerusalem
Archbishop John Sentamu, retired Anglican Archbishop of York
Patriarch Fuad Tual, Latin Patriarch (Emeritus) in Jerusalem
Archbishop Desmond Tutu, retired Anglican Archbishop of Cape Town
Metropolitan Kallistos Ware of Diokleia, of the Greek Orthodox Archdiocese of Thyateira and Great Britain
Bishop Munib Younan, Lutheran Bishop (Emeritus) in Jerusalem
Jean Zaru, Religious Society of Friends (Quakers) co-founder of Sabeel
Our President
Professor Mary Grey
Mary is a Roman Catholic liberation theologian. Until 2005 she was D J James Professor of Pastoral Theology at the University of Wales, Lampeter; Professor of Contemporary Theology at the University of Southampton, based at La Sainte Union (1993-7); Professor of Feminism and Christianity at the Catholic University of Nijmegen, the Netherlands (1988-1993) and until 2013 Visiting Professor at St Mary's University College, Twickenham, London, and Honorary Professor at the University of Winchester. She is President of Living Stones of the Holy Land Trust. She was co-founder with Dr Nicholas Grey (1987) of the NGO, Wells for India, a water-based organisation in Rajasthan, India; Patron of Friends of Sabeel UK; Chair of the Theology Group of Living Stones and sometime Trustee and now President of Living Stones; Patron of Dalit Solidarity Network UK; Vice-patron of the Centre for Theology and Health, Holy Rood House, Thirsk; core member of the Balfour Project Group. For 10 years she was editor of the journal Ecotheology. From 1998 she co-edited the Introducing Feminist Theology series (with Lisa Isherwood and Janet Wootton) for Sheffield Academic Press and then Continuum. In addition, she has published numerous articles, reviews and contributed to multi-author works. Her recent books include: The Advent of Peace—a Gospel Journey to Christmas (SPCK 2010); The Resurrection of Peace (SPCK 2012); The Spirit of Peace—Pentecost and Affliction in the Middle East (Sacristy Press 2015).
Our Trustees:
Colin South (Chair)
Colin has a Master's in Public Policy and Management and an ICSA Certificate in Charity Management. Colin was General Secretary, Director and then later Lead Consultant for Christians Abroad, a charitable organisation associated with the ecumenical movement in the UK. Colin taught Science, Mathematics, Religious and Social Education, Careers Education and Guidance in secondary schools in Ghana, Jamaica and the UK. He was also Director of Friends School, Ramallah, for four years from 2000-2004 and Director of Global Ministries for Friends United Meeting for three years. He has also served as Clerk of UK and Ireland EAPPI Committee. Previous administrator, trustee and Chair of Living Stones. Active member of the Religious Society of Friends. Colin is currently the Chair of Living Stones.
Revd Dr Andrew Ashdown
Andrew is an Anglican priest who has been visiting the Middle East for nearly 40 years. Andrew has led many pilgrimages/encounter visits to the region and has participated in conferences in Jerusalem, Bethlehem and Beirut as a member of Sabeel, Living Stones and Christians Aware. In 2006, Christians Aware published his book The Stones Cry Out. Reflections from Israel and Palestine. Recently, Andrew has undertaken doctoral research into Christian-Muslim Relations in Syria, which involved multiple visits to and travels throughout Syria during the course of the conflict there, as a guest of local faith communities. His thesis was awarded a PhD in 2019. Andrew is a member of the Partnership Team among our group of trustees.

Michael Doherty
Michael is a lawyer by profession and has worked in various London borough housing departments and One Housing Association. Since retiring, he has worked as a volunteer with a local charity assisting with a local food bank and with the homeless. Visiting the Holy Land on a Living Stones pilgrimage, he was struck by the parallel experience of young people growing up in the West Bank with his experience as a teenager in the segregated society that was Northern Ireland in the 1970s. Michael felt he had to do something to counter the mainstream narrative that is perpetuated in the media concerning the Holy Land. He joined LSHLT in November 2019. Michael is the Living Stones Membership Secretary.
Philip Francis
Philip read Theology at Jesus College Cambridge and taught English as a UNIPAL volunteer in the Bir Zeit University summer school. He trained as a teacher at St Mary's College Strawberry Hill, now St Mary's University, Twickenham. On graduation he returned to Palestine to teach English in Hebron University and then taught in the Catholic School in Anjara, Jordan. He has looked after religious affairs for CAABU, the Council for the Advancement of Arab British Understanding, and wrote for Middle East International. He served on the initial Living Stones Committee with Duncan Macpherson and Michael Prior. He has led many pilgrimage groups across Europe. Currently Philip is a member of the Partnership Team within the body of Trustees. He is a practising Roman Catholic.
Leonard Harrow
Leonard is an orientalist, initially focussing on the history and heritage of Iran. He has an MA (Edin.) and MPhil (SOAS). He has written a number of monographs and has contributed several academic articles over the years. He has been house editor for the World of Islam Festival Trust Publications, for Altajir Trust Publications and Scorpion Publications. At present Leonard is editor of Melisende Publishing. Involved in the publishing of several seminal works on the Middle East, he has worked for many years with, and published work by, the late Kenneth Cragg. A frequent traveller and lecturer to the region, he has been a trustee of Living Stones for more than 10 years and is currently the Managing Editor of the Living Stones Yearbook.
Catharine Langrish (née Macpherson)
Catharine is a fundraising professional with 25 years' experience of working for a variety of UK and international charities, Catharine has a MSc in Charity Fundraising and Marketing, an MA in Peace Studies, and a BSc in Sociology. Her undergraduate dissertation explored the changing roles of Palestinian women in the first Intifada, and her MA dissertation focussed on the Oslo Peace Process. Catharine was co-ordinator both of Friends of Birzeit University UK, and of Living Stones in the late 1990s, and still retains a concerned interest in peace and justice in the Middle East, and in the survival of the Christian communities there. Currently Catharine is part of the Membership, Communications and Publicity Group within the Trustee body.
Genevieve Macklin
Genevieve has worked in local government across six London boroughs for 35 years. She has been a head of housing services with responsibilities for homelessness and social housing. She is experienced in developing operational services, policies, strategies and partnerships across a diverse range of organisations. She worked extensively with local and central government at ministerial and senior officer levels. Special roles and projects included establishing a Syrian Refugee Acceptance Programme, No Recourse to Public Funds Service and London Housing representative on the London Strategic MAPPA Board (for serious sexual and violent offenders). Highly motivated to help the vulnerable and play a part in tackling social and political injustice, Genevieve is member of the Membership Team among the Trustees of Living Stones.
Revd Dr Duncan Macpherson, KHS
Duncan is a founder member of Living Stones, a Roman Catholic Permanent Deacon, and formerly a Principal Lecturer, later Visiting Senior Research Fellow, in Theology and Religious Studies at St Mary's University, Twickenham. He has led numerous pilgrimages and study tours to the Holy Land and is active in charities supporting Palestinian Christians and Palestinian higher education. His publications include, Pilgrim Preacher, a study of the impact of Holy Land Studies on Preaching. He is also the literary executor of his former colleague and friend, the late Professor Michael Prior CM, and has published two memorial volumes of Michael's selected essays and addresses. Duncan is currently the Vice Chair of Living Stones of the Holy Land Trust. Website: http://www.deaconduncan.com/
Revd Dr Stephen Sizer
Stephen is the founder and director of Peacemaker Trust, a charity dedicated to peacemaking, where minorities are persecuted or justice denied, where human rights suppressed or reconciliation is needed. For 35 years, until his early retirement, Stephen served as an Anglican priest in Chichester, Guildford and Winchester Diocese. He is a trustee of Southampton and Winchester Visitors Group, a charity who befriend and support asylum seekers and refugees. In 2004 he was awarded a PhD by Oak Hill Theological College and Middlesex University. His thesis examined the historical roots, theological basis and political consequences of Christian Zionism in Britain and the USA from 1820. Stephen currently serves as Webmaster for Living Stones and is part of the Communications and Publicity Team among Trustees. Website: www.stephensizer.com