Living Stones Events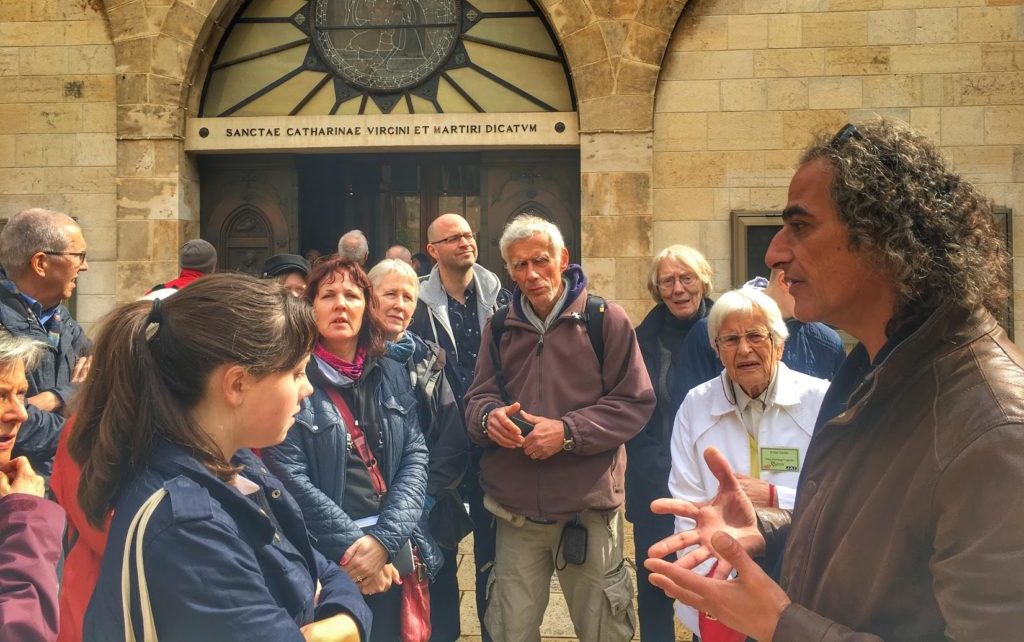 Living Stones AGM and Michael Prior Memorial Lecture 2023
Our Annual General Meeting is to be held on Saturday November 18th between 11.00 am and 12 noon at Our Lady of Victories Catholic Church, 235a Kensington High Street, London, W8 6SF. The Opening Prayer and Welcome will be given by Rev. Dr. Robert Gibbons at 11.00 am.

Non members are welcome. A suggested donation of £10 per person as a non member can be paid on registration at the door. Members are entitled to vote at the AGM.
Membership forms will be available on registration. Members will receive their free copy of the Yearbook 2023 on the day. The Yearbook is an annual publication of scholarly articles about challenges arising within Christian communities in the Middle East. The membership fee for 2023-4 is £30 per annum with a reduced fee for those on low income of £20. Payment can be made to the Living Stones of the Holy Land Trust account; Sort Code: 40-52-40 Account Number 00035082. .
Michael Prior Memorial Lecture – Session One commencing 12 noon.
We are delighted to welcome John McHugo to give the Michael Prior Memorial Lecture 2023. The lecture is entitled The Very Stones Cry Out concerning The Gaza Crisis in Context.
John McHugo is the author of A concise History of the Arabs ( a new, updated third edition appears this month). He is also author of Syria: A Recent History and A Concise History of Sunnis and Shi'is. He is a board member of CAABU (The Council for Arab-British Undertanding), and a trustee of the Balfour Project. He has academic backgrounds in Arabic and Islamic studies as well as experience in international law. www.johnmchugo.com
Lunch will at 1.15 pm. Please bring packed lunch, tea and coffee provided.
Session Two: A Panel Discussion following the theme of the lecture – commencing at 14.00 (2.00 pm)
The Panel Discussion will include John McHugo and Carole Bourne . Carol Bourne is a retired Anglican Priest. Carole is Chair of the World Day of Prayer, England, Wales and Northern Ireland. She has a doctorate in Politics and has served as an Ecumenical Accompanier in the The West Bank. The Panel will provide a forum for questions following the lecture and a more general discussion of the issues involved.
The AGM, the Michael Prior Memorial Lecture and the Panel discussion may be joined on Zoom. A link will be provided to those requesting a link by returning an e-mail to admin@livingstones.ngo. Please mention whether you wish to join the AGM and/or the Michael Prior Lecture and Panel Discussion.
---
Living Stones Theology Group
Our ecumenical theology group meets two or three times a year for a day, usually in Oxford, to discuss a paper presented by one of the participants. For more information please contact David the convenor.
---
Living Stones Pilgrimages
On an occasional basis trustees of Living Stones organise ecumenical pilgrimages and educational visits to the Holy Land. In the past these have often occurred in January to coincide with the Week of Prayer for Christian Unity. Our trustees have a deep knowledge of, and interest in, the Middle East from many different perspectives, and this is reflected in the way we arrange a Living Stones pilgrimage. Our five priorities are to:
+ Encounter Christian communities
+ Understand the context in which they exercise their faith
+ Encourage by our presence and interest
+ Reflect and pray
+ Witness by sharing what we have experienced
Download a leaflet elaborating on the kind of pilgrimages we arrange or encourage. Details of future pilgrimages will be posted here and on our Facebook page.